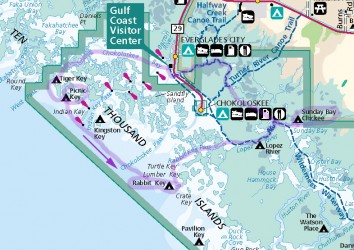 Another great trip this year with a new wrinkle… a Sail! We did a three day loop starting with Picnic Key, then Rabbit Key and up the Lopez River to Sunday Bay. [photo gallery] On the last day we explored the mangrove tunnels of Half-Way Creek as an alternative to the slog along the Chokoloskee causeway. This turned out to be an excellent choice!
After pulling our permit we got breakfast and waited for the tide to rise so we could give the new sailing rig a dry run.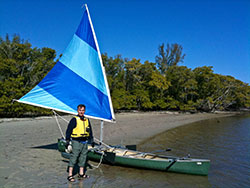 I bought a sail kit that clamps on to my canoe. I'd been experimenting with the configuration to allow the bowman to stay in his seat. This turned out to work well. The boom was just tall enough to clear our heads. I also repositioned the downhaul to clear the space in front of the mast. The wind was cold, gusty, 12-18mph out of the north, but the boat handled well in spite of this. (The tide never did rise in Chokoloskee Bay that day, the wind was strong enough to keep it out!)
The next day we waited until about 11am to depart, in theory to wait for the high tide that never came. Our first leg took us northwest through a series of bays until we found the unmarked West Pass. The wind was on our aft quarter and the sailing was amazing! [video]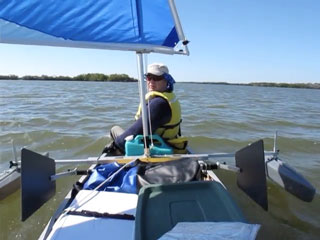 7.6 Mb Video
The tide and wind cooperated so we were able to sail through the narrow pass and out to the Gulf. We arced around Tiger Key and landed on Picnic Key without paddling a stroke all day!
The ranger had suggested we choose Picnic Key for our first campsite. While Tiger Key is technically the more isolated beach site, it looks north at the lights of Marco Island (ugh!). We were happy to be on Picnic. The long beach gave us plenty of isolation and there was a lot to see and do.
We hiked along a narrows between Picnic and Tiger to a beautiful alternate camp site with white sand and deep water. It would have been a great place to swim if the air were warmer. Saw lots of tide pool life including a starfish and a hermit crab [video].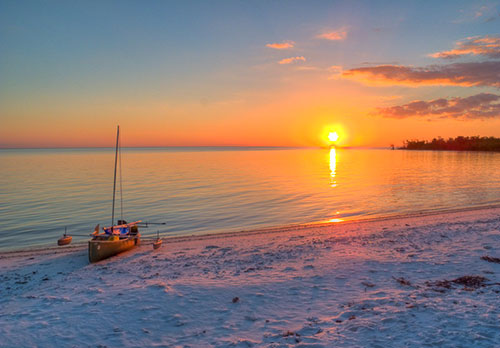 The next day we were ready to set off again, with the wind turning easterly. Along the way we fell in with a large pod of dolphins. Because of the sail we were able to stay with them for several minutes. It was delightful!

We made good progress for another hour and took a side trip to see a flock of white pelicans, but then the wind began to fail. It was in an odd situation with lots of waves to push us around, but not enough wind to make progress upwind. There might have also been a current working against us. So we invented paddle-sailing! We paddled the last mile with the sail up and it seemed help us along, even though we were technically pointing too high into the wind.
We arrived at Rabbit Key and had lunch. Then we set out to explore the island and there was a lot to see! The tide was out exposing little bays, each with its own beach and mud flats.

We came across a cluster of agave-like plants with sword-shaped leaves. And large black caterpillars with yellow stripes. Birds were in abundance including ruddy turnstones, peeps, and a flock of oystercatchers. Just at dusk we saw two Outward Bound six-person war canoes pass by, presumably to bivouac somewhere in the islands.
The next morning we collapsed the sailing gear and started our first paddle-only day. The wind had calmed and we rode the tide through Rabbit Key Pass and up the Lopez River. We had lunch at the Lopez River Campsite, which appeared to be recently cleared and renovated. On the front of the old cistern/foundation we found the name "Lopes" (with an "s") and "1892" scrawled into the cement. Not sure if it could actually be that old? We got to the Sunday Bay Chickee in the early afternoon. Shortly after we arrived a solitary pelican landed, obviously looking for a handout. This is the first time in eleven years that I've seen such behavior. No doubt it is being fed (frown). There is a similar problem with alligators at Sweetwater.
After some reading and a nap, we paddled around the corner to see if the flock of Blue-Winged Teal (2) I'd seen in the past might be there, and they were! We had a great evening, with a bug-repelling breeze until sunset. The next day dawned grey, promising rain to come.

The two obvious routes back to civilization are Lopez and Turner Rivers. Either way there are miles of very boring, and possibly dangerous, paddling along the Chokoloskee Causeway to get back to the ranger station and our car. By a fluke of inspiration, I realized there was a potential third route via a cut-off to Half-Way Creek. We were in a mangrove tunnel for most of the way.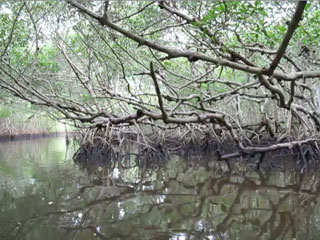 3.3 Mb Video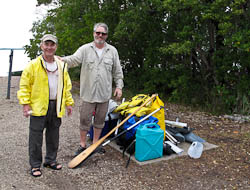 Larger boats enter the cut-off from either end, but the middle is quite narrow and could easily be blocked by fallen trees. But it wasn't blocked and proved to be a great way for us to get back! Just as we began to see houses and docks it started to rain in ernest, so we had a soggy landing.
So ended our excellent outing for 2011!