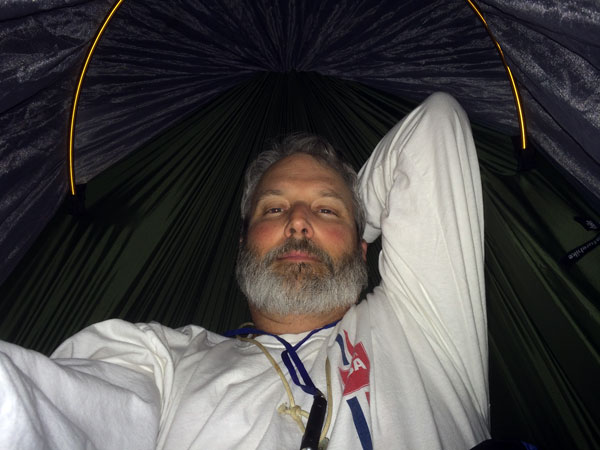 I went out last night to get some experience pitching and sleeping in my new hammock tent. It came with no instructions and there is only limited info available online. I'm getting better using a bit more tension and added a small relieving line to the fly so it can hang along the side (keeping the netting clear for viewing the trees and stars!). In future I'll keep it rolled so it stays off the ground. I paddled in the dark to a place I'd picked out. Once you find two trees the rest is pretty easy. In fact, it's trip-over-a-log easy compared with a surface tent! Plus everything is dry!

I brought a small towel to wipe my feet before swinging them inside. I like the little pouch on the outside for a water bottle and miscellaneous small stuff. There is also a small pocket in the netting overhead that works well for phone and glasses. One cool thing about all/most of these tents is the way they pack up, basically two narrow funnel-shaped sleeves (called "snake skins") that pull to the center. Take down is as easy as setting up.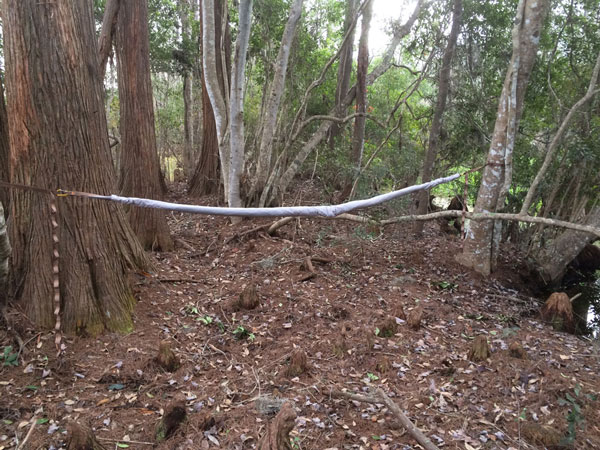 The diamond-shaped fly has "wings" that tie out sideways. I think this will work well, but you have to stoop to enter/exit. Having recently pitched a conventional tent in driving rain (i.e., everything wet), it strikes me that the above arrangement is far superior. When you hang it and pull back the skins the fly is on top and drapes over the inner tent keeping it mostly dry. That's the theory anyway!
Update: I slept under the fly during a vigorous rain storm and it was amazing! Not one drop of water got through to me!! It was the driest tent I've ever experienced. The only caveat is the rain that night was mostly straight down. It would be a bit more vulnerable with a significant crosswind.