Three short impressions by Terje Sorgjerd…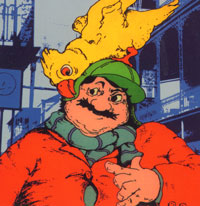 A Confederacy of Dunces is one of my all time favorites! The story behind the book is almost as improbable… a first novel by a young unknown author who then commits suicide… a mother who refuses to give up after many rejections… a little help from an academic and the NEA… once published it takes off and wins the Pulitzer Prize!
Ignatius J. Reilly is an original and compelling protagonist, a sort of perverse philosopher king (at least in his own mind!). As I recently re-read the book I made a connection that may not be coincidental. Could Ignatius have been part of the inspiration for Eric Cartman of South Park fame?!