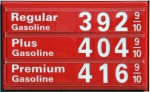 Daylight Saving Time is one of many anachronisms of modern life. Very similar to the nine-tenths of a penny added to gasoline prices in the US…
It turns out that the two have much in common. Both date back to the early 1900's. Both were supposed to be temporary. Both have strong commercial constituancies that have helped them survive long after any societal benefit has waned (if there ever was one!).
This article in The Atlantic today is a good summary…
Daylight Saving Time is Wasteful, Unnecessary, And Even Dangerous!
As is the stopdst.com website and #StopDST hashtag.