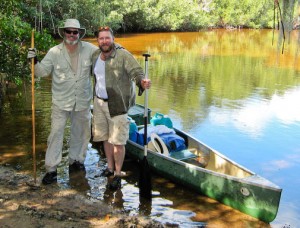 Yet another excellent adventure, this year with my youngest brother Bruce. We started at Coot Bay Pond and circled clockwise around Whitewater Bay. The first day was spent mostly paddling up the Joe River, where we saw manatee and dolphins galore. The Joe River Chickee faces west and we had an excellent sunset. The next day we did a "boomerang" with the tides out to the Gulf and up the Shark River. The hurricane damage to the coastal mangroves was remarkable. We even saw a Loggerhead Sea Turtle swimming toward the shore!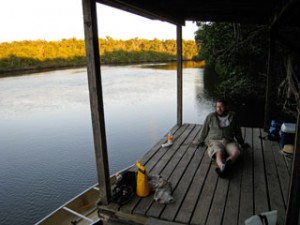 After exploring the small streams north of the river we camped on the Shark River Chickee. The next day we waited for the tide to return and float our boat off the mud. We got some reading in, ate lunch and took off about noon. Bruce led us through "The Labyrinth" — a complex of creeks and ponds leading back to the big bay. We stopped to rest at the Watson River Chickee and kept out of the wind as much as possible on our way up the North River.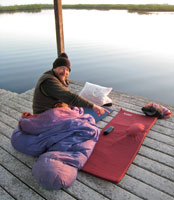 It was cool with a steady breeze to keep the bugs off so we slept out under the stars that night. Outstanding! Had a small problem with my pad, which developed a "tumor" overnight. The sun rose in an almost cloudless sky. We continued north towards the cut-off between the North and Roberts Rivers.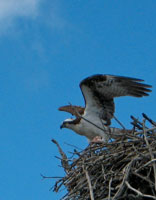 Along the way we saw bromeliads in bloom and a pair of Ospreys sharing a fish in a classic nest. From there we turned east into the Lane River and did a bit of bushwhacking. Then we proceeded south to Hell's Bay and our chickee. That night we had both Venus and the crescent Moon overhead.
The next day dawned warmer and more humid. Two dolphins escorted us for twenty minutes as we made our way down the East River and out to the bay. Then it was headwind time until we crossed Coot Bay and got back into the mangroves. We finished where we started, the Coot Bay Pond put-in. An nice finish to a spectacular trip!