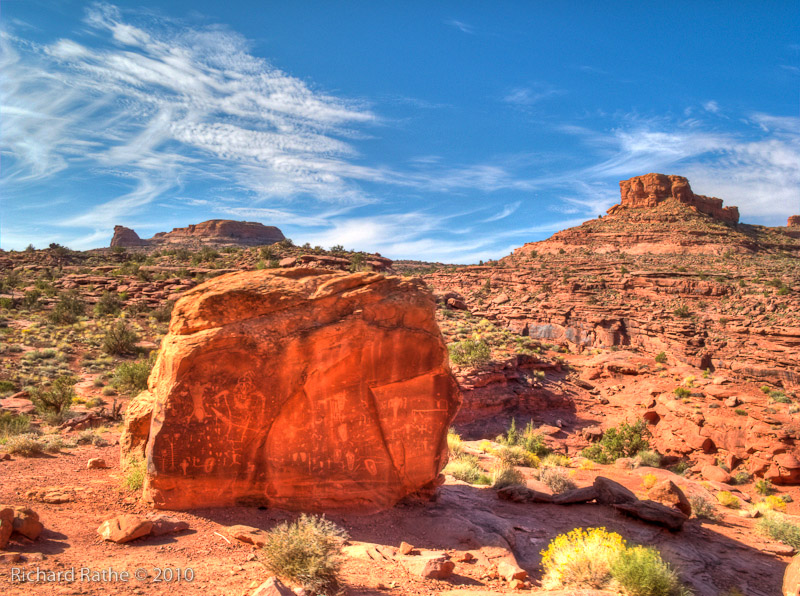 I recently went on a great road trip with my brother-in-law Rick Hindman. We traveled through Western Colorado [gallery] into Utah [gallery] and ultimately Lake Powell [gallery]. We had the opportunity to visit several Native American Rock Art sites [gallery] along the way. (Can you find the petroglyphs in the photo above?)
First Day on the Road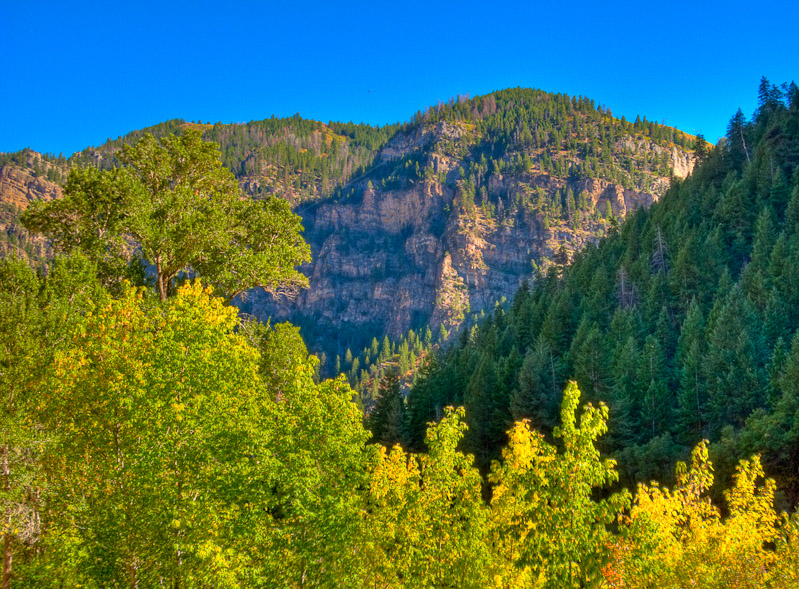 The aspen trees were near their peak color on the eastern slope. We stopped at Grizzly Creek (where I camped under the highway bridge in 1976!)  deep in Glenwood Canyon (where I took the HDR photo shown above).
We drove on into Utah and the high desert. Late in the day we stopped at a rest area and did a bit of exploring. We were surprised to find many plants in full bloom! The purple haze in the first photo below is not artifact, you are looking at millions of tiny purple flowers!
I took this HDR panorama at sunset…

Lake Powell
We launched Rick's boat at Bullfrog and proceeded south to establish camp in Slickrock Canyon. We found a nice beach with access to a trail going further up the gorge. (Many campsites are completely cutoff so there is no opportunity to walk around and explore.)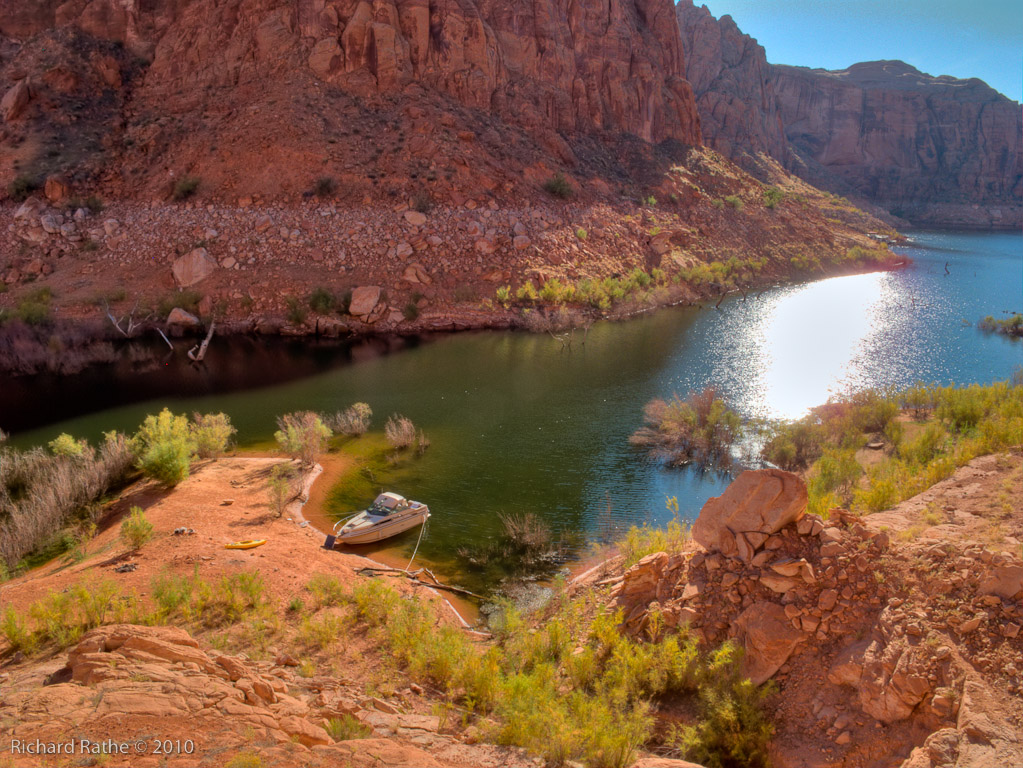 Here's a 180° view (fire ring near the center)…

The campsite was nearly perfect with access to both the land and the water. I went swimming twice a day and liked to perch on a huge standing dead tree. The lake level is about forty feet below its former average, so these trees had been completely submerged (and preserved). Rick cooked delicious meals on a tiny charcoal grill. I booted my laptop each evening to review the day's photographic results while sipping margaritas. The moon was up late and we had a terrific view of the Summer Triangle and the Planet Jupiter. I slept out under the stars. We even had a fireworks display on our last night! (Thanks to what turned out to be a boat full of firemen camped further down the valley.)
We took several hikes up the canyon at various times of day. We also had a small kayak with which to explore the inlet above our campsite. The first photo below shows the white patina deposited when the nearby rocks were under water. Unfortunately the shoreline was dominated by Tamarisk, which is a recent and unwelcome invader (see photo below right). While the shade it provides is welcome, it is changing the riparian ecosystem and efforts are underway to control it.
It had rained about a week before, and flowers were blooming everywhere! From left to right: purple asters unfolding with first light, small purple flowers that bite back (!), small yellow flowers that did not open until the afternoon, and a huge "morning glory" that bloomed in the dry creek bed.
There was a small Anasazi ruins about a mile above our camp called Mistake Alcove. It is about eight hundred years old and located high inside the beautiful incipient arch shown below. "Mistake" might refer to the lack of shade. The site is south facing and would be very hot in the summer! When the lake was higher it was very accessible and became terribly degraded. The Park Service recently had it rehabilitated and put up a fence.
Iceberg Canyon
On the third day we picked up Rick's cousin Glen and took a cruise down to Iceberg Canyon. It's very different from Slickrock, with vertical walls coming right down to the water. The lower water line revealed trees that had been submerged and preserved since the dam was built.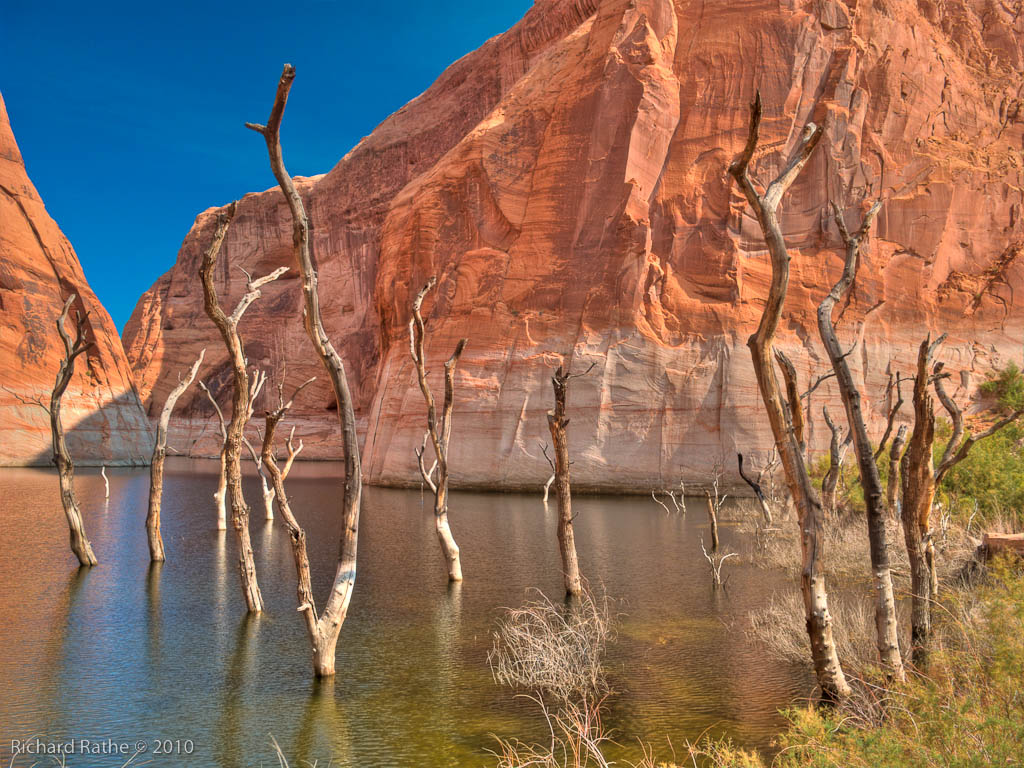 We explored several inlets and had lunch and a swim.
We visited a strange cul-de-sac with water dripping and sunlight shimmering off the water. The cliff top was almost straight up. I took my first vertical panorama showing almost 90° of elevation. I also took several HDR photos and short videos. No mean feat from a gently rocking boat!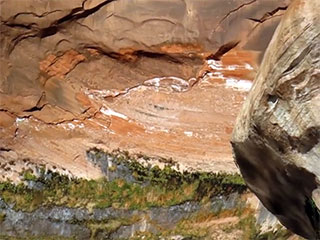 4.5 Mb Video
We also took a short hike up to a little Green Lake. At one time it was connected to the inlet but it became cutoff when the water level dropped a few years ago (note the white line about twenty feet up the rock face). It was livid green with algae, but fish were jumping so it wasn't totally dead.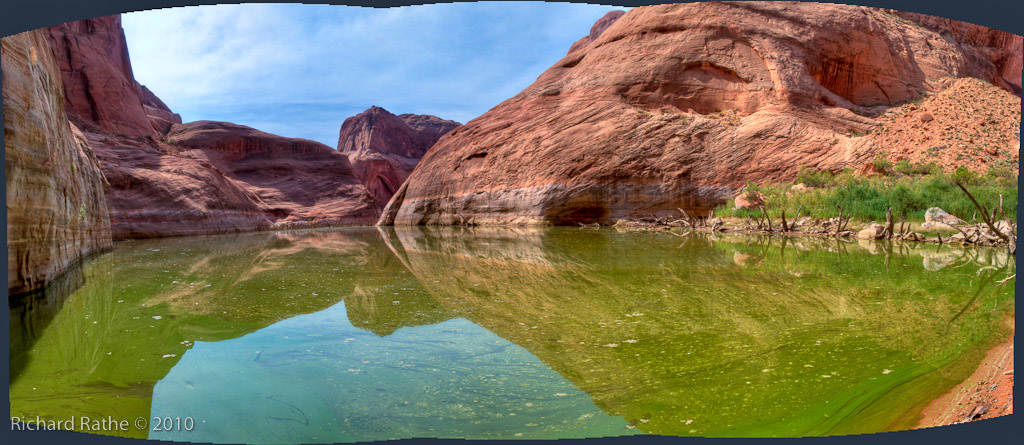 Moab and Dinosaur Tracks
We stopped in Moab on our return trip. The next day we set out to visit as many rock art sites as possible and the Turning Dinosaur trackway (below right). The surreal HDR below is a stretch of the Colorado River.
Rock Art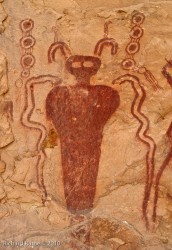 There are many Native American rock art sites in the Moab area. These are two of my favorites.
On the left is a petroglyph from the Fremont Culture (700 to 1300 CE). It was chipped into the rock, removing the dark "varnish" and revealing the lighter stone underneath.
On the right is my photoshop restoration of a partially vandalized pictograph (rock painting) from the Sego Canyon group near Thompson Springs. These are from a much older "Archaic" culture and are at least two thousand years old! In the photo below you can see how extensive this panel is…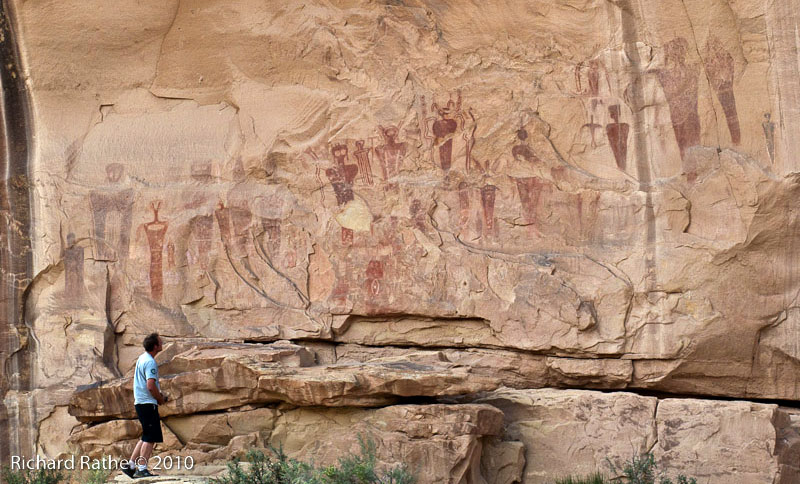 Here is a panorama of the middle section…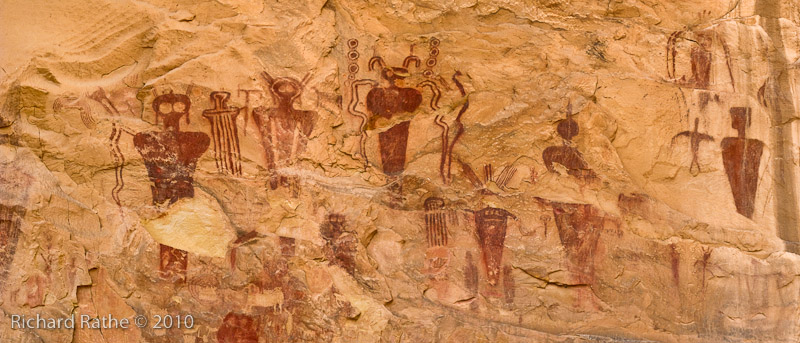 Around the corner is a more modern group (with riders on horseback). The larger images are both chipped and painted. Unfortunately this panel is extensively vandalized. The third major group is on the sunny outcrop shown below. First your eye is drawn to the geometrical figures and the more modern bighorn sheep. Then you notice ghostly red figures emerging from the rock. It is a stunning effect!
We also visited a "picture rock" with images on all four sides, including the geometric figures and snake attributed to the Ancient Pueblo (Anasazi) Culture (900-1200 CE).
Colorado National Monument
By mid-afternoon we were back in Colorado and decided to drive through the Colorado National Monument where I took this final HDR panorama…